KPS Goes Quackers At Curran Duck Race
2nd Oct 2014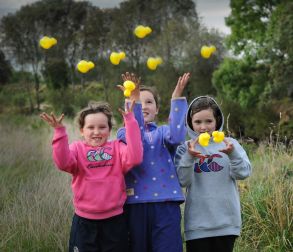 Our PTA held another fantastic and now annual "Curran Duck Race" tonight. Between 80 and 100 adults and children of ages gathered along the banks of the River Moyola to see over 600 little sponsored quackers take to the water.
It was a lovely evening and stayed dry and bright enough for everyone to attend, enjoy the event and leave the site safely. The winning duck belonged to: Gavin Harcourt from Cullybackey who was sold the ticket by one of our P1 children Bethany McKee, Molly Beattie's duck came second and Miss Mary Peeples from Mullagh Road owned the duck who quacked over the line in third place.
The event raised around £1200 for PTA funds, an excellent start to the new school year!! Many thanks to all of you who helped prior to and/or during or attended the event.
Knockloughrim Primary School, 337 Hillhead Road, Knockloughrim, Magherafelt, Northern Ireland BT45 8QT | Phone: 028 7964 3407