Our School, Ethos & Vision
About Our School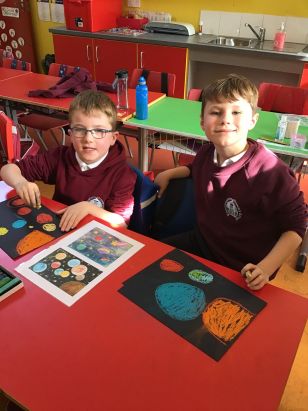 OUR SCHOOL:
Knockloughrim Primary School is situated in a pleasant and spacious setting on the edge of the village of Knockloughrim, close to the town of Magherafelt. The children are drawn from the village and from a wide surrounding rural catchment area of almost 10 miles. Almost all travel to school is by car or by bus. The school's enrollment has risen from 49 in 2003 to the current figure of 119. The school accommodation consists of three permanent classrooms in the main school and two in a recently built modular building, assembly/dining hall/gym, extensive playing fields and all weather play area incorporating school vegetable garden and our much loved forest area.
OUR ETHOS & VISION:
Knockloughrim Primary School will always be concerned with creating a caring, Christian learning community in which every member feels valued, supported and happy. All staff will strive to provide an ethos in which fairness, tolerance, compassion and forgiveness permeate all relationships within the school community. High standards of respect, self- discipline, commitment and sensitivity will be sought and everyone will be encouraged to set and achieve the highest personal, academic and social goals. The safety, welfare and development of everyone in our school community will be of paramount importance to all staff.
In Knockloughrim Primary School the pastoral care structures that have been deemed by our most recent ETI report (2010) as "Outstanding" are based on a shared understanding that:
Each person is unique and worthy of respect.
Pastoral care is for the entire school community and not just for those experiencing difficulties.
Each member of the school community has responsibility for the caring life of the school.
Pastoral care permeates the life of the school.
Pastoral care avails of the support and expertise provided by statutory and voluntary bodies in the wider community.
Appropriate resources, policies, procedures and training are provided to ensure the effective implementation of the pastoral care programme.
This stated ethos is clearly evidenced in the daily operation of the school with a clear sense of purpose and identity present among both pupils and staff. This is supported by the maintenance and development of a high quality learning environment.
Time, effort and attention is allocated to ensuring that positive relationships exist at all levels within the stakeholders of our school community and this investment is rewarded by staff and pupils consistently working together in a purposeful and supportive manner.
At Knockloughrim Primary School, the role of parents in the education process is well recognised and respected. As a school, we value the support that we receive from all our parents and encourage parents to play an active role in the education of their children.
Knockloughrim Primary School, 337 Hillhead Road, Knockloughrim, Magherafelt, Northern Ireland BT45 8QT | Phone: 028 7964 3407